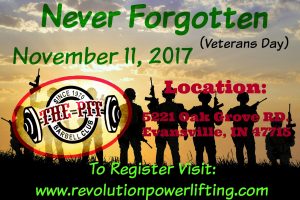 Presented By: Four Brothers Gym / Iron Mafia
Never Forgotten (Veterans Day)
Date: November 11, 2017
Meet Directors: Shana Miller (865) 712-1227  Kelli Allen (859) 893-9385 or email Fourbrosgym4@yahoo.com
Location: The Pit Barbell Club 5221 Oak Grove Rd. Evansville, IN 47715
Entry Fees: $95 Full Power, $90 Push/Pull, $85 Bench or Deadlift Only, and $30 for Crossover.
Weigh Ins: All weigh ins will be held at the meet location.
Friday 9:00 a.m. – 12 noon and Saturday 7:00 a.m. – 8:00 a.m.
Doors open at 7:00 a.m. Saturday morning.
General Admission: $10 (Coaches/Spectators) kids 12 under free.
ANY VETERAN WITH A MILITARY ID GETS FREE ADMISSION ON SATURDAY FOR THE MEET!!!!!!
Lifters meeting starts at 8:00 a.m. Sharp!
Lifting and loud music starts at 9:00 a.m.
SIGN UP TODAY VIA PAYPAL:Ironmafia2010@yahoo.com
(Be Sure To Send Through Friends and Family With The Correct Amout And Information On Meet Entering and Divisions!!)
***Make all checks PAYABLE to Kelli Allen***
Mail all entries to Kelli Allen
Po Box 4082 Mt. Vernon, KY 40456
Entry Deadline: October 28, 2017